Description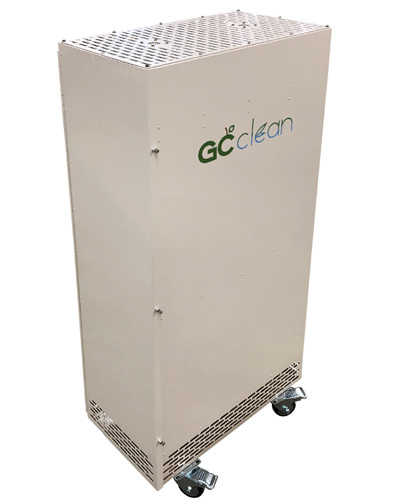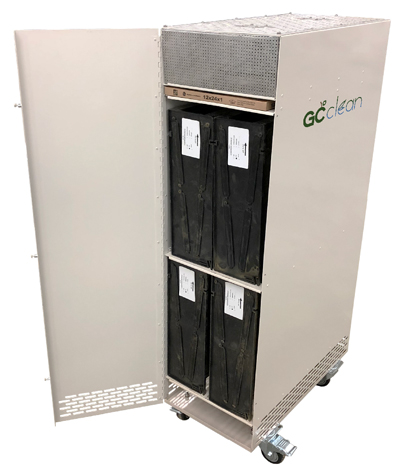 Sacks of Activated Granules in Flow-Through Drawers with Filter and Blowers above
F E A T U R E S
Various Sizes for Variously Sized Storage Areas
Can be used in Storage and Distribution Facilities
Wall Mount or Rollers
Replaceable Granule Packs
Activated Carbon Packs Optional
On/ Off Cycle Timer
Helps complying with HACCP requirements
Organic Compliant & FDA Approved
Low Cost, Safe, and User-Friendly
The GCclean air filtration machine is a flexible air-treatment system, which ensures a hygienic environment, free of odors and other harmful microorganisms. Growers, laboratories, producers, shippers, retailers, or other businesses that deal with the storage of all types of raw plants and flowers can benefit by using the GCclean machine.
The GCclean uses sacks of activated granules to absorb cannabis odors, fungi spores, and certain bacteria. The potassium permanganate in the granules is a natural anti-microbial agent with a pH of 9.2; much too high for airborne bacteria to survive physical contact with the granules. It is also an effective oxidizing agent, helping to kill the odor compounds and other VOCs. The granules are disposable, and compatible with fresh plants and organic produce; they do not leave any chemical residues on plants or food (nonadditive). The new technology used to forumulate the granules gives longer life of to media, which ultimately helps save costs.
SPECIFICATIONS
DIMENSIONS (D x L x W)
9.5"x5.5"x10"
13"x7"x25.5"
24.5"x12.75"x43.5"
24.5"x12.75"x55"
WEIGHT
4.5 lbs.
11 lbs.
61 lbs.
65 lbs.
DETAILED SPECIFICATIONS