Description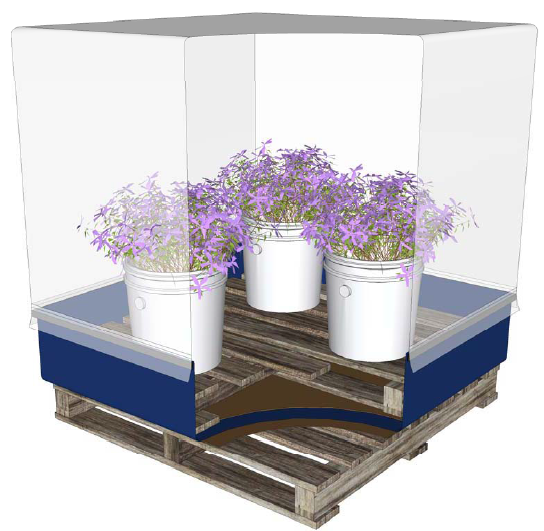 Rendering of Assembled Oyster Chamber with Cut-Away to Show Function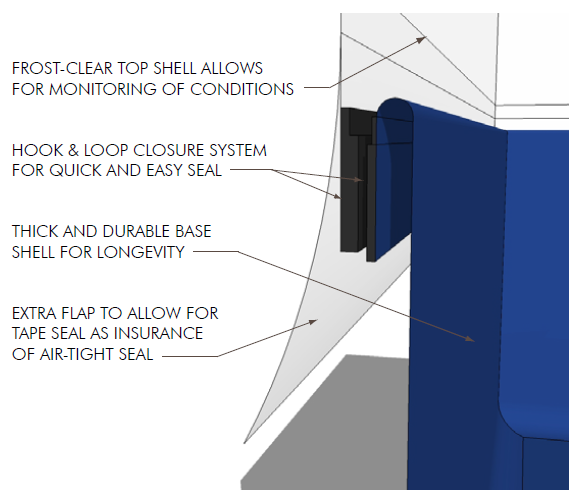 Enlarged Section of Seal Around Perimeter of Oyster Chamber
Grow Control, LLC. has listened to customer wishlists and developed an entirely new isolated grow chamber system, the Oyster. Use this simple method to grow or extend the life of plants in the chamber while keeping them completely isolated from the surrounding environments.
Improving upon previous technologies, the Oyster sealing system utilizes hook-and-loop closure around the perimeter of both shells for a fast and secure seal every time. Then, to improve the seal and provide additional insurance for longer-term storage, the top shell features a flap that folds over the hook-and-loop seal to allow the operator to tape the two shells together, insuring an air-tight seal every time. Additional improvements include the non-use of any major rigid parts, with the exception of valving. This lets the operator easily fold down the bottom shell while loading, allowing for quick hand-loading without obstruction or mechanical loading by a skillful operator. Additionally, the Oyster systems are easily folded and stored when not in use.
The atmosphere in the chamber can be monitored via external tubing connected to the pallet using quick-connect fittings. This allows the tubes to stay in place while the pallet is moved, still available for the next sealed pallet to go into that store location. Control can be accomplished manually or by a complete computer control system that can sample up to 100 chambers. Unique setpoints are programmable for each pallet.
The Oyster IGC system is very cost effective and available in four common sizes, making it suitable for various size growers. Once sealed, these pallet stores are kept in your cooler and under a controlled atmosphere until the product is ready to market.
Durable RF-Welded Vinyl Construction
Hook-and-Loop Seal w/ addl. Flap for Tape
Base Shell Size: 41"x49"
Accessories: Pressure Relief, Quick-Connect
Isolate Odors and Gas Levels in Chamber
Models (Height): P (4'), M (5'), G (6'), TG (7')