Description

SPECIFICATION
UNIT SPECS
Operating Temperature 32°F – 122°F
Integrated Sensors Carbon Dioxide, Temperature, Relative Humidity, Light
Power Source 10-24VDC
Power Consumption 12.5W + 1.08W per Audible/Visual Strobe Alarm Maximum
Communications Eeb Data Upload, Modbus TCP
Dimensions 180.00mm x 180.00mm x 48.50mm (7.09in x 7.09in x 1.91in)
CARBON DIOXIDE SENSOR
Detection Range 360 – 10,000ppm CO2
Detection Technology Non-Dispersive Infrared (NDIR); Single Light Source, Dual Wavelength
Accuracy ±50ppm+3% of reading in the range of 360 – 5,000ppm CO2
Pressure Dependancy Approx 1% of reading/kPa
Response Time 90 seconds (Diffusion)
TEMPERATURE SENSOR
Accuracy ±0.9°F (-13°F – 185°F)
HUMIDITY SENSOR
Operating Humidity Range 0 – 100% RH (Maximal Dew Point = +185°F)
Accuracy ±3% RH (15 – 85% RH at +73.4°F)
±5% RH (0% – 15% RH and> 85% RH at +73.4°F)
Response Time < 5s (50 – 0% RH) at +185°F
LIGHT SENSOR
Detection Technology Dual Diode
Lux Range* 188 uLux – 88,000 Lux
AUDIBLE/VISUAL STROBE ALARM (OPTIONAL)
Voltage 10-24VDC
Number of LEDs 54
Lens Color Amber
Current Draw 90 – 350mA (Setting Dependent)
IP Rating IP55

* Light sensor specifications are shown. Actual performance is dependant on angle of light source relative to the sensing element. Sensor is used in this device exclusively for identifying if grow lights are on or off.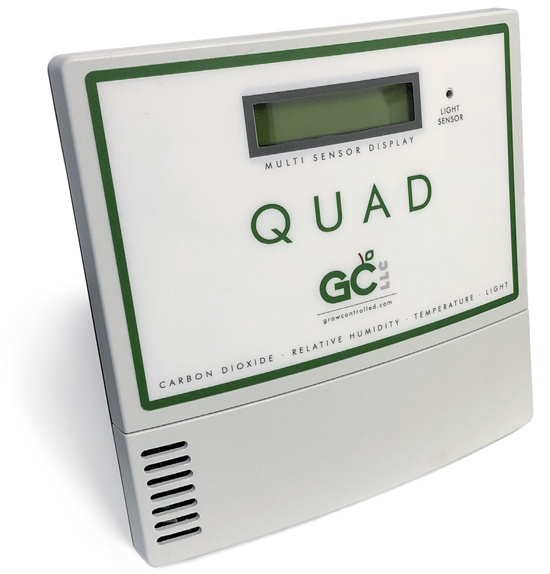 GC QUAD Sensor : a Carbon Dioxide, Relative Humidity,
Temperature, and Light Sensor in One Box!
F E A T U R E S
CO2 Monitoring & Control
CO2 Safety/Evacuation
Dual-Band Infrared CO 2 Sensor: 0-10,000 PPM
Thermistor Temperature Sensor: 30-100°F ± 0.2°F
RH Sensor: 0-95% RH ± 1.5%
Light Sensor
Control Outputs
Multiple Sensors can run on Canbus Network
On-board Backlit Display with Current Readings
Web Interface for Remote Access, Data Logging, & Programming
Available as CO 2 Only with 75dB Audible Alarm
Interior/Exterior Room LED Visual Alarm Option
Optional Waterproof Washdown Casing
Optional Oxygen Sensor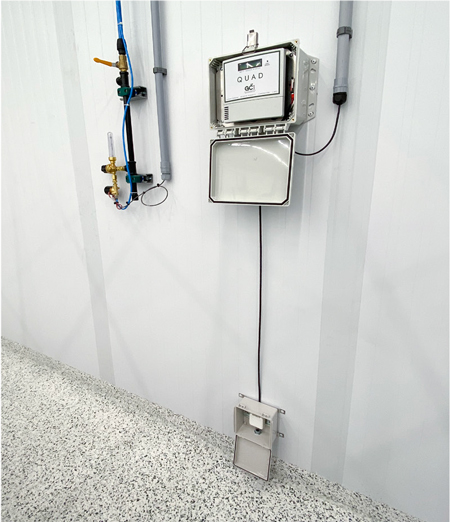 Installed GC QUAD Sensor
with Visual LED Alarm Connection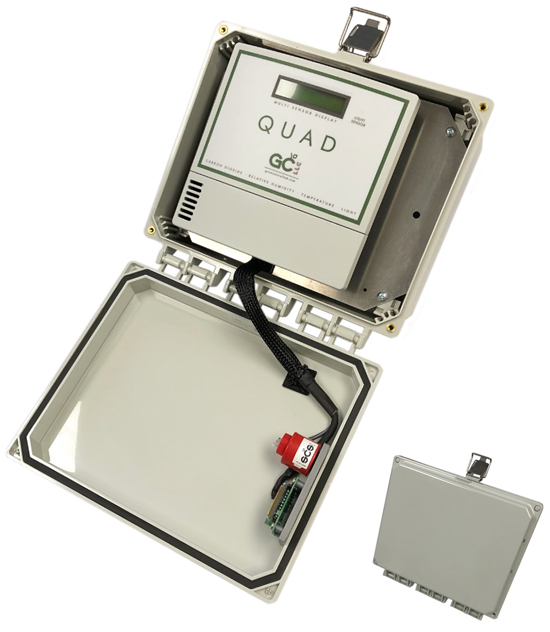 GC QUAD Sensor in Optional Washdown Casing (Inset: Closed)