Description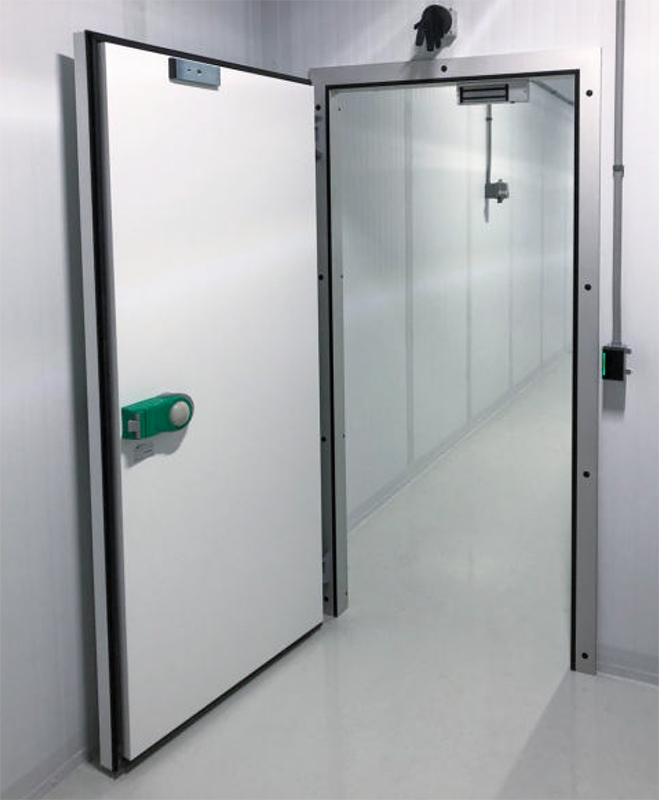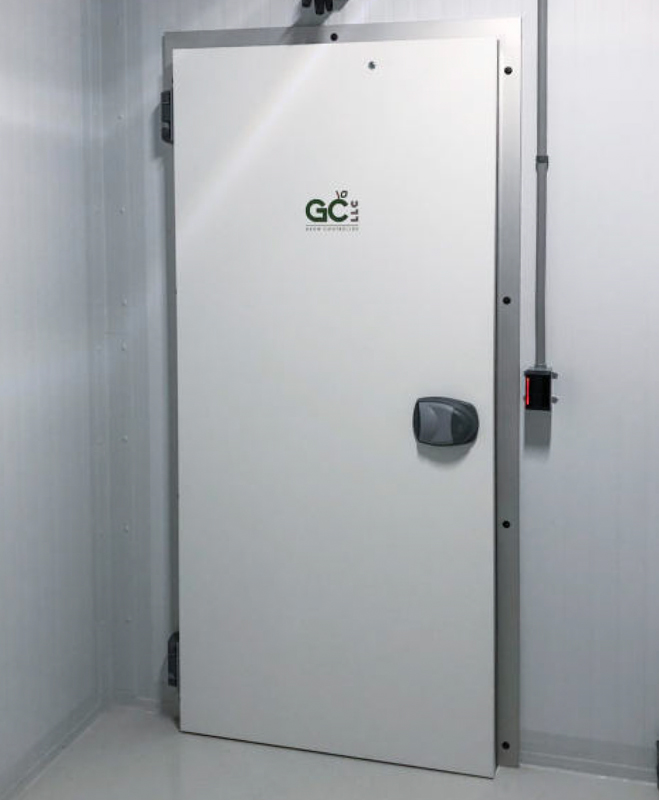 F E A T U R E S
Single & Dual Door Configurations Available
Keeps Odor In and Light Out
Reduces Microbial Load
Prevents Vapor Drive in Humid Climates
Conserves CO2
Easy & Waterproof Washdown
Optional Window with Blackout Cover
Corrosion-Proof Construction
Magnetic Lock (Optional)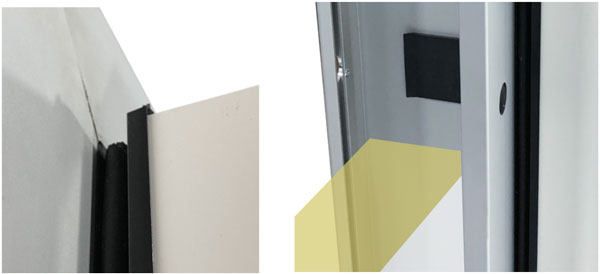 Passtight Man Door with Seal and Quick Install IMP Frame Detail
Grow Controlled is proud to offer a range of doors as the standard for grow facilities. Having the ability to seal a room beyond the capabilities of a typical commercial door not only helps contain odor, but eliminates vapor drive, keeping the atmosphere isolated within a room for ultimate control. This allows the operator to maintain elevated carbon dioxide levels and reduce microbials.
With most grow operations using insulated metal panels as standard, the Passtight door is a logical choice for a grow/veg room single or dual man door that is simple to install. No tedious fitting of a six 5.5" steel frame door in a 3" or 4" IMP wall; the sandwich design allows for speedy install and a remarkable finish for a professional look with all of the added benefits mentioned above. GC Passtight doors are economically priced and the installation time savings make them the answer for your operation.
All GC doors are constructed with an aluminum framework around the perimeter, and the leafs can be manufactured in nearly any color.
SPECIFICATIONS
CONSTRUCTION
Door leaf constructed of a core of insulation material, covered on both sides with 4mm lacquered aluminum composite plate with a core of plastic.
STANDARD SIZES
Single: 3'x7' (37.375"x84.625"H) or 4'x8' (47.25"x96.5"H)
Dual: 6'x8' (74.75"x96.5"H)
DOOR LEAF THICKNESS
1.6" (utility), 4" (utility/refrigeration), 6" (freezer)
R-VALUE
1.6" approx. 1.42 (m2.K/W), 4" approx. 4,03 (m2.K/W), 6" approx. 6,21 (m2.K/W).
COLOUR OF DOOR LEAF
Similar to RAL 9010 (white)
SEALING
Rubber profile seal complete around door perimeter
FRAME
Anodised aluminum clamping frame for wall thickness 4 – 6" or 6 – 8".
THRESHOLD
Exclusive (utility/refrigeration), Inclusive (freezer).
FRAME HEATING
Exclusive (utility/refrigeration), Door frame & threshold (freezer)
HINGES
Stainless steel/plastic rising hinges.
LOCKS
Pull fastener handle with cylinder lock on exterior/inner emergency release by means of a push button; outside fastener/handle with cylinder lock (special order).
ADDITIONAL OPTIONS
Deviating measurement, door leaf and outer frame in stainless steel, outer frame all round, window in the door, door closer, storm chain, rain hood and more.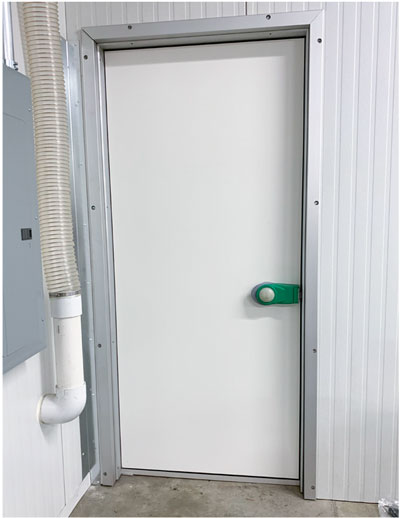 GC Passtight Inswing Mounting Option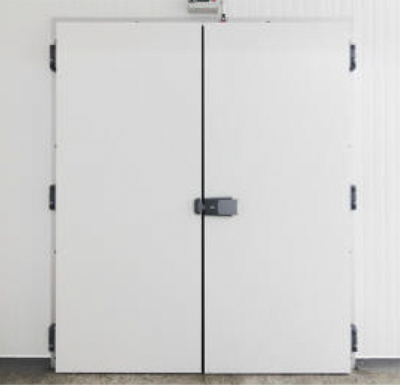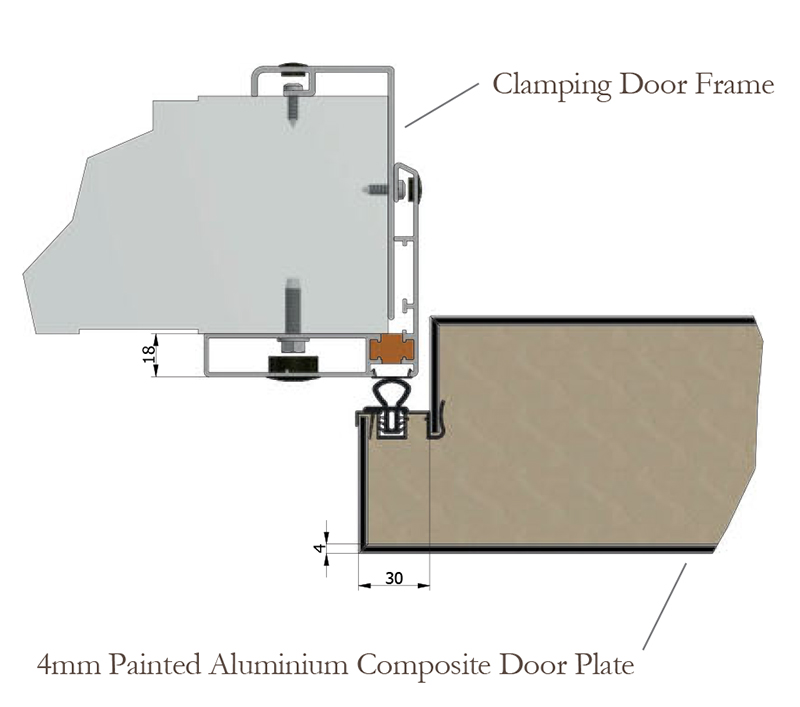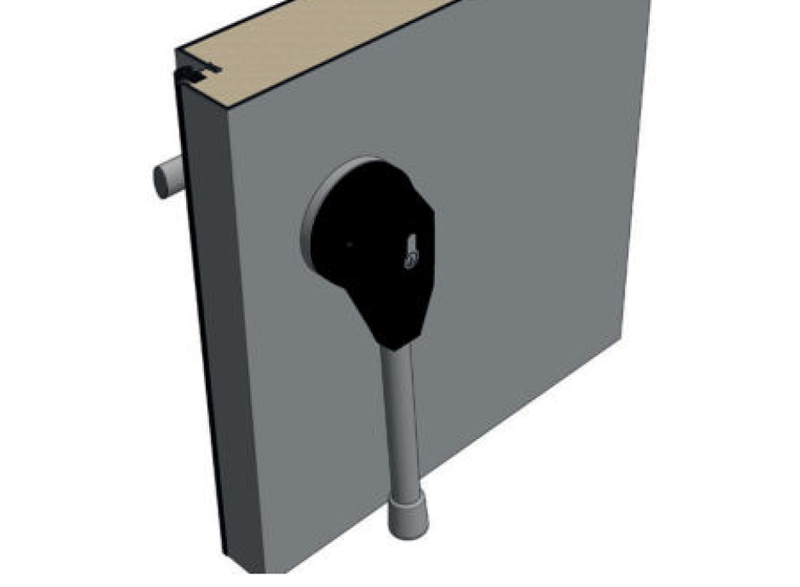 Seal Handle (Special Order)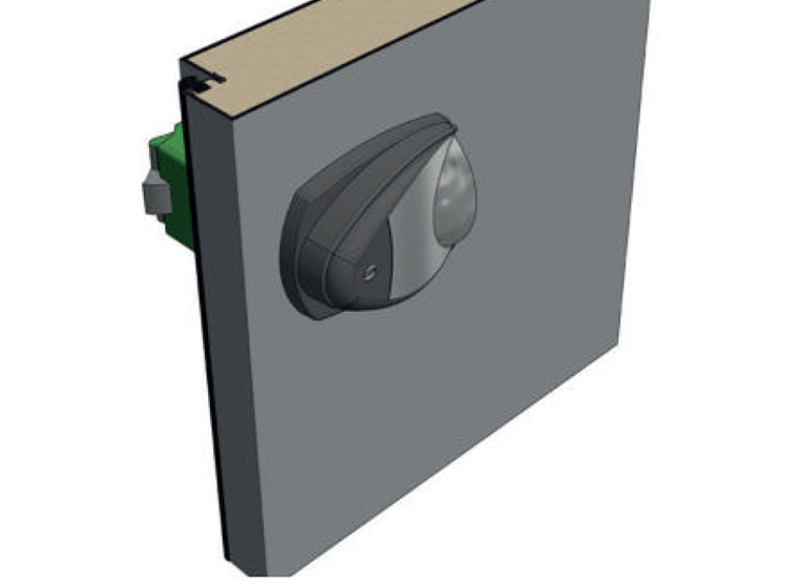 Fastener Handle (Standard)