Description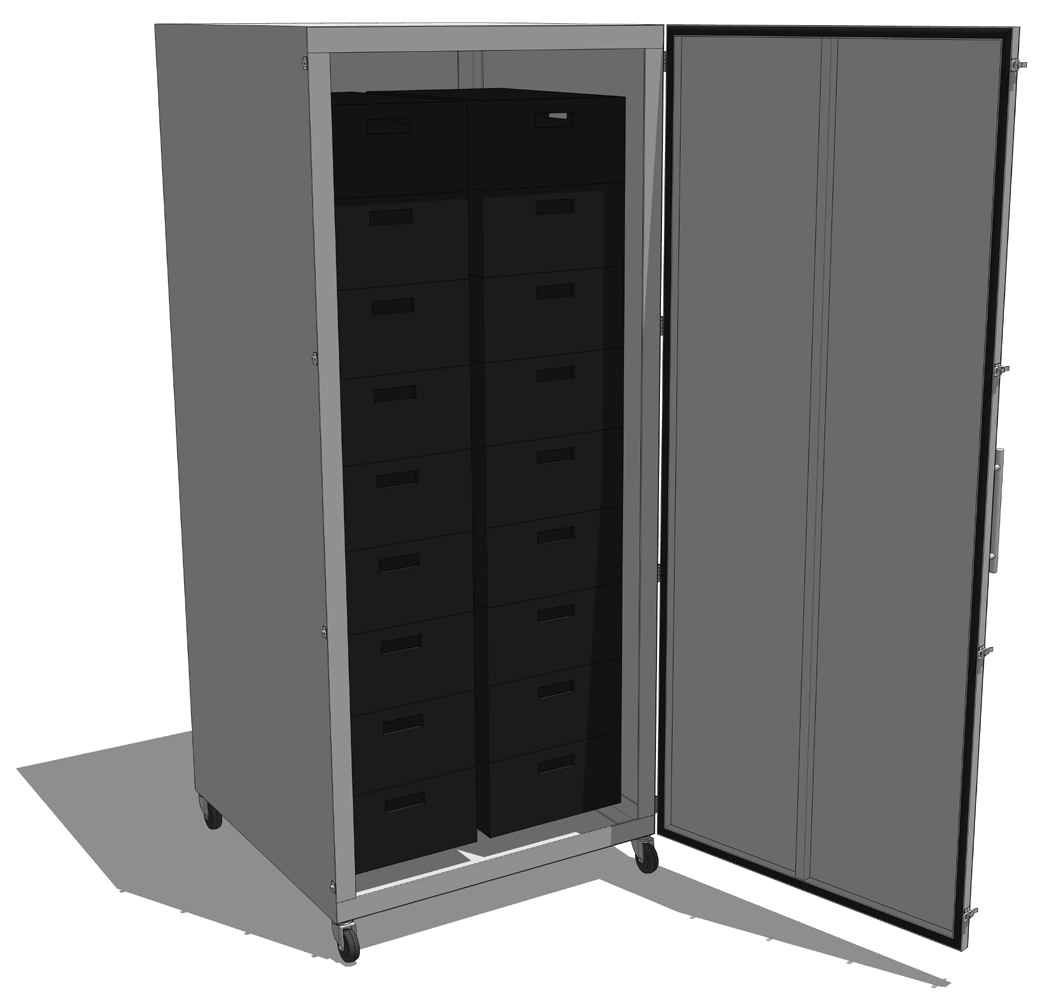 CūrPod SpaceSavr Interior showing RPC Stacks & Hinged Door Seal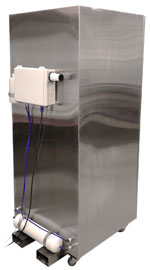 CūrPod SpaceSavr Exterior Rear & Front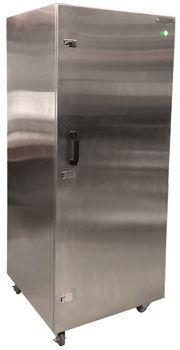 F E A T U R E S
Automatic Curing
Self-Contained Control of Low O2 Atmosphere for Long Term Holding using N2 Gas
Automatic Operation & Full Data Recording
Internal Sensors for O2, CO2, RH and Temperature
Hydrate Dry Product
Introduce Terpenes
Standard Size for 18 RPCs (95 lbs)
Cloud-Based Monitoring and Control
Dashboard Showing Multiple CūrPods
The CūrPod SpaceSavr System is a hermetically sealed stainless steel enclosure with a gastight sealed door and a 95 pound capacity of product in 18 standard 15.5 x 23.5 x 7.75 inch plastic crates. The vertical design and hinged door focuses on compact design, maximizing dry/cure capability in existing spaces where space is at a premium.
No Guessing
No Burping
No Recordkeeping
No Labor
Automatic Operation
Full Data Recording
Each CūrPod is self-contained with built-in oxygen, carbon dioxide, temperature and relative humidity sensors with digital communications to a cloud site. Built-in control valves and blowers regulate the connected nitrogen, air, or humidity supply to accurately maintain the programmed levels.
Customize & control O2 & CO2 levels
Perfect your curing process for consistency
Preserve product using nitrogen gas for up to 12 months
Built-in scale for logging of weight
The individual measured data is regularly collected and can be displayed on a program that runs on the PC or can be exported to Excel or other common programs. The CūrPod SpaceSavr connects to an internet cloud-based dashboard, also accessible from any device. There, multiple CūrPods can be viewed at a glance from an overview screen, with individual data and setpoint adjustment available with a click. Historical data is available for export and download, as well, to aid in record-keeping.
Breakdown chlorophyll and sugars, not terpenes
More time growing; less time curing
Reduce microbial contamination
Increase average cost per pound
Easily maintain fresh drop appearance for up to 12 months
Consistent cure process
Remarkable terpene retention


CūrPod Cloud Interface
FEATURES & SPECIFICATIONS
MEASUREMENT & CONTROL RANGE
Oxygen: 0-25% or 0-2.5% Auto range Resolution: low range +/- 0.002% O2 Electrochemical 4-year long life sensor Carbon Dioxide: 0-50000 ppm Resolution: < 5% 0.002% >5% 0.02%
CONTROL INPUTS
Control Gases required: Nitrogen with an oxygen content lower than minimum required CA Oxygen. Fresh Filtered Air. CO2 if required. Gas supply inlet pressure 1 to 3 Bar (15 to 50 psi )
Automatic atmosphere control with included operations.
Control Setpoints for Oxygen and CO2 adjustable to a 0.01% resolution. Gas control differentials 0.05%, CO2 add differential 0.2%. Air added for CO2 control: Air flow adjustable 0.1 to 1 L/min
Nitrogen added when Oxygen is measured high or when CO2 is high. Adjustable flow 0.2 to 2 L/min. Owner to supply N2 bottle with regulator. Additional flow rate adjustable from controller from 100% to 1% of maximum flow over a 5 minute period.
Descant tube for Humidity Control.
OPERATION OF INTERNAL FANS
ON when control gases being added. With no gas addition, adjustable over range 1 to 5 minutes on every 5 minutes.
TEMPERATURE MEASUREMENT
Probe with a typical accuracy of 0.1°F available for measuring and recording the CūrPod temperature
PRESSURE RELIEF
The flow of correction gases into the CūrPod are automatically discharged to atmosphere through a vent.
DATA COLLECTION
O2, CO2 and temperature recorded to cloud site. CSV downloadable app or desktop web interface.
LEAKTIGHTNESS
Oxygen at typically 1% in a static CūrPod (no product, no correcting gas) will remain within 1.0% O2 over a period of 24 hours.
DIMENSIONS
Standard Size: 18 x RPC crates (Typical Single RPC size: 40 x 60 x 20 cm), Approx. 95 lbs capacity 18 RPCs: 33.75"W x 42"D x 78.75"H (with Casters)