Description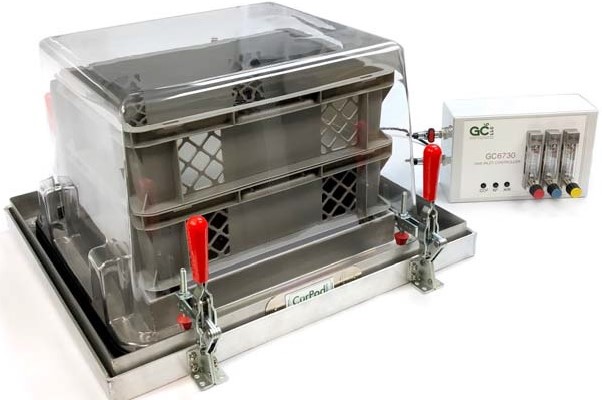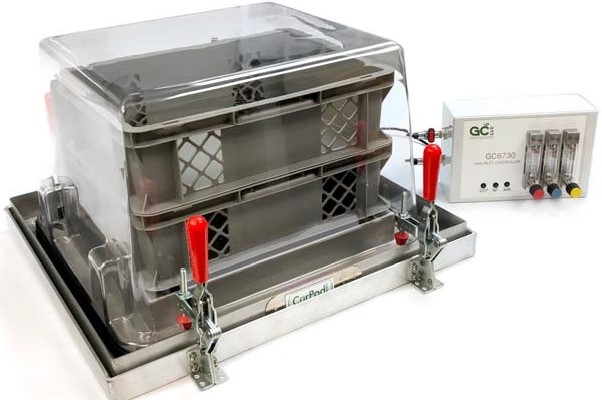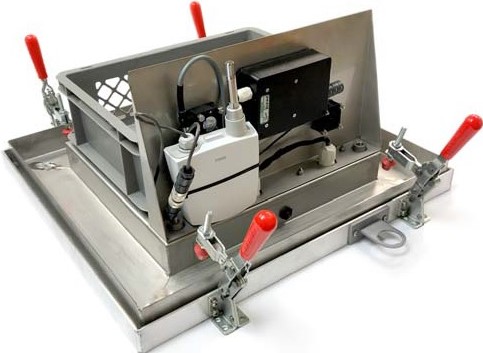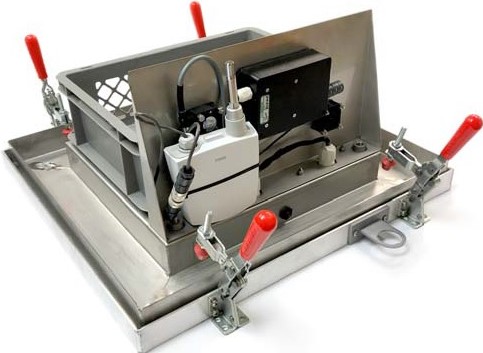 The central operating panel supports from 1 to 32 CurPods minis which can be mixed between standard CūrPod and CūrPod minis and all the settings are made from this panel through its touch screen or remotely from a PC computer connected through a network. The measured data is regularly collected and can be displayed on a program that runs on the PC and can be exported to Excel or other common programs.
Breakdown chlorophyll and sugars, not terpenes
More time growing; less time curing
Reduce microbial contamination
Increase average cost per pound
Easily maintain fresh drop flavor for up to 12 months
Consistent cure process
F E A T U R E S
The CūrPod mini System is a hermetically sealed enclosure with a stainless steel base and a clear molded cover that sits in a channel for perfect sealing. It has a capacity for approximately 3 pounds of product in two standard 12 X 16 inch plastic crates.
Patent-Pending Dry Cure Status using Respiration Data
Expands on Our Patented Technology – U.S. Patent No. 8739694, Canadian Patent No. CA2746152for Large Dry Rooms
Self-Contained Control of Low O2 Atmospherefor Long Term Holding
Built-In High-Resolution Gas Analysers
No Guessing
No Labor
No Burping
Automatic Operation
No Recordkeeping
Full Data Recording
Each pod is self-contained with built in Oxygen, Carbon Dioxide, temperature and Relative Humidity sensors with digital communications to a central operating panel. Built in control valves and gauges regulate the connected Nitrogen, Air, or CO2 supply to accurately maintain the programmed levels. A patent-pending respiration technology automatically indicates dry and cure status.
Customize & control Oxygen level
Perfect your curing process for consistent flavor time and again
Preserve product with high N levels for up to 12 months
Stock pre rolls for up to 12 months with fresh drop flavor
Automatic Operation & Full Data Recording
Moisture Sensors for Precise & Consistent Moisture
Content in Final Product (Coming Soon)
Hydrate Dry Product
Introduce Terpenes
SPECIFICATION
MEASUREMENT & CONTROL RANGE
Oxygen: 0-25% or 0-2.5% Auto range Resolution: low range +/- 0.002% O2 Electrochemical 4-year long life sensorCarbon Dioxide: Two options at purchase, 0-50000 ppm or 0-20% CO2 Resolution: < 5% 0.002%>5% 0.02%
CONTROL INPUTS
Control Gases Required (Not Included): Nitrogen with an oxygen content lower than minimum required CA Oxygen.Fresh Filtered Air. CO2 if required. Gas supply inlet pressure 1 to 3 Bar (15 to 50 psi )
Automatic atmosphere control with included solenoids.
Control Setpoints for Oxygen and CO2 adjustable to a 0.01% resolution. Gas control differentials 0.05%, CO2 add differential 0.2%.
Air added when Oxygen is measured low: Air flow adjustable 0.1 to 1 L/min
Nitrogen added when Oxygen is measured high or when CO2 is high. Adjustable flow 0.2 to 2 L/min
CO2 (if connected) added when CO2 is low. Adjustable flow 20 to 200 mL/min.
Additional flow rate adjustable from controller from 100% to 1% of maximum flow over a 5 minute period.
Optional CO2 scrubber available for CO2 control if Nitrogen flush CO2 removal is not acceptable.
RESPIRATION & RQ MEASUREMENT
Automatic frequency of measurement, adjustable from 10 to 999 hours
OPERATION OF INTERNAL FAN
ON when control gases being added. With no gas addition, adjustable over range 1 to 299 seconds every 300 seconds.
TEMPERATURE MEASUREMENT
Probe with a typical accuracy of 0.1°F available for measuring and recording the temperature
ANALYSER CALIBRATION
Zero stability typically better than 0.05% over 12 months
Automatic barometric pressure compensation for span calibration
Remote calibration possible from operating panel.
Sampling port available for atmosphere sampling with a portable standard analyser and for Ethylene and volatile measurement
PRESSURE RELIEF
The flow of correction gases into the CūrPod are automatically discharged to atmosphere through a vent.
ELECTRICAL CONNECTION
One multicore cable for CAN data connection and 24v operational power. Connector & wall mounted termination box provided with each LabPod.
CENTRAL OPERATION PANEL
5.7inch touch screen display. Capacity for up to 32 CūrPod connections. 24v power supply for the system included in Panel.
Additional power supply needed for greater than 16 CūrPods. The controller has a standard Ethernet connection with a dedicated IP address. Remote client and PC software provided for PC operation.
Continuous readout of gas and temperature and operational status. Access to all control settings. Remote analyser calibration protected with a passcode. Settings for empty volume and product weight for respiration rate calculations
Optional PLC & Touchscreen available for RH control & moisture sensing.
DATA COLLECTION
O2, CO2 and temperature recorded every hour together with most recent RQ and respiration results. Results stored on CF card in PLC and on hard disk of connected PC. Can be displayed on PC in Graphical and tabular formats and exported in various formats including Excel, Word and pdf.
LEAKTIGHTNESS
Oxygen at typically 1% in a static CūrPod (no produce, no correcting gas) will remain within 0.1% O2 over a period of 24 hours.
DIMENSIONS
55 x 50 x 35 cm high Weight 13 Kg. Empty volume 41L Pull down time to 2% Oxygen with N2 at 2 L/min is 1 Hour.
Capacity approx 3lbs product. Plastic 1/2 crate 300 x 400 mm Maximum height 240mm (1 x 220 box or 2 x 120mm box or 4 x 70 mm )
CūrPod mini with GC6730 Gas Inlet Controller
Rear of CūrPod mini showing Sensor Array