Description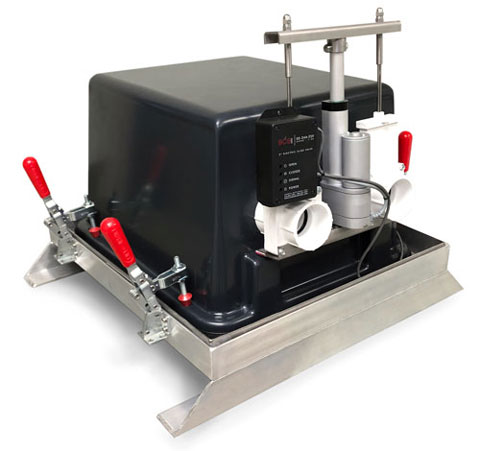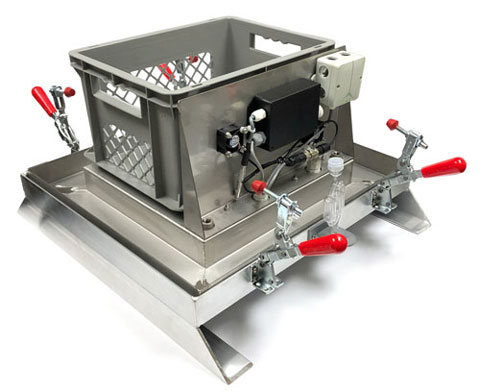 F E A T U R E S
Patented 2Technology –
U.S. Patent No. 10143210, Canadian Patent No. CA2746152
Self-Contained Monitoring of Relative Humidity, Temperature, Oxygen, and Carbon Dioxide
Built-In High-Resolution Gas Analysers (0.000)
Automatic Operation & Full Data Recording
Remote Operation
Introducing the patented CurPod:DRY. Placed in any dry room and loaded with representative product from the room, our respiration analysis will help you determine the exact dry time necessary for every harvest taken down. By watching postharvest respiration of the product inside the pod, it is easy to see and monitor the drying process from start to finish. With our patented technology, the CurPod:DRY can be used inside any room regardless of temperature, humidity, or gastightness.
Simply load the trays inside the Pod with product as you fill your room. By watching the separate, remote touchscreen display, you can monitor and log the relative humidity, temperature, oxygen and carbon dioxide inside the Pod. Algorithmic data is periodically calculated when the automatic dual slide valve closes. No outside influences are affecting the calculations during the Isolate Stage. The take away from this process, which can be set to occur every few hours or daily, is true respiration of the cut flower. As respiration decreases, the drying process is furthering. When the Pod reaches a pre-determined level, or a level with which the operator is historically comfortable, the result is an exact moisture content time and time again, allowing for a consistent product at any scale with minimal risk and effort.
Keeping the dry room door closed is very important. Using the Pod as a subset, or sample of the entire dry room, to make decisions via an operator interface entirely outside the room requires less employee interaction inside the dry room, which decreases microbial exposure.
Different strains and even variable grow cycles will cause respiration differences (ml/CO2/hr). This is calculated by weight of the sample set. Knowing this respiration rate of the product in each CurPod:DRY can help streamline your operation, and allows for starting an accurate cure process, resulting in consistent product to market.
Postharvest care is where things can go wrong. Let Grow Controlled help you in every stage of your process.
Decrease Microbial Exposure by Limiting Human Interference
Deliver a Consistent Prodcut to Market with Different Harvests
SPECIFICATION
MEASUREMENT & CONTROL RANGE
Oxygen: 0-25% or 0-2.5% Auto range Resolution: low range +/- 0.002% O2 Electrochemical 4-year long life sensor Carbon Dioxide: Two options at purchase, 0-50000 ppm or 0-20% CO2 Resolution: < 5% 0.002%>5% 0.02%
CONTROL INPUTS
Control Gases Required (Not Included): Nitrogen with an oxygen content lower than minimum required CA Oxygen. Fresh Filtered Air. CO2 if required. Gas supply inlet pressure 1 to 3 Bar (15 to 50 psi )
Automatic atmosphere control with included solenoids. Control Setpoints for Oxygen and CO2 adjustable to a 0.01% resolution. Gas control differentials 0.05%, CO2 add differential 0.2%. Air added when Oxygen is measured low: Air flow adjustable 0.1 to 1 L/min Nitrogen added when Oxygen is measured high or when CO2 is high. Adjustable flow 0.2 to 2 L/min CO2 (if connected) added when CO2 is low. Adjustable flow 20 to 200 mL/min. Additional flow rate adjustable from controller from 100% to 1% of maximum flow over a 5 minute period. Optional CO2 scrubber available for CO2 control if Nitrogen flush CO2 removal is not acceptable.
RESPIRATION & RQ MEASUREMENT
Automatic frequency of measurement, adjustable from 10 to 999 hours
OPERATION OF INTERNAL FAN
ON when control gases being added. With no gas addition, adjustable over range 1 to 299 seconds every 300 seconds.
TEMPERATURE MEASUREMENT
Probe with a typical accuracy of 0.1°F available for measuring and recording the temperature
ANALYSER CALIBRATION
Zero stability typically better than 0.05% over 12 months
Automatic barometric pressure compensation for span calibration
Remote calibration possible from operating panel.
Sampling port available for atmosphere sampling with a portable standard analyser and for Ethylene and volatile measurement
PRESSURE RELIEF
The flow of correction gases into the CūrPod are automatically discharged to atmosphere through a vent.
ELECTRICAL CONNECTION
One multicore cable for CAN data connection and 24v operational power. Connector & wall mounted termination box provided with each LabPod.
CENTRAL OPERATION PANEL
5.7inch touch screen display. Capacity for up to 32 CūrPod connections. 24v power supply for the system included in Panel.
Additional power supply needed for greater than 16 CūrPods. The controller has a standard Ethernet connection with a dedicated IP address. Remote client and PC software provided for PC operation.
Continuous readout of gas and temperature and operational status. Access to all control settings. Remote analyser calibration protected with a passcode. Settings for empty volume and product weight for respiration rate calculations Optional PLC & Touchscreen available for RH control & moisture sensing.
DATA COLLECTION
O2, CO2 and temperature recorded every hour together with most recent RQ and respiration results. Results stored on CF card in PLC and on hard disk of connected PC. Can be displayed on PC in Graphical and tabular formats and exported in various formats including Excel, Word and pdf.
LEAKTIGHTNESS
Oxygen at typically 1% in a static CūrPod (no produce, no correcting gas) will remain within 0.1% O2 over a period of 24 hours.
DIMENSIONS
55 x 50 x 35 cm high Weight 13 Kg. Empty volume 41L Pull down time to 2% Oxygen with N2 at 2 L/min is 1 Hour.
Capacity approx 3lbs product. Plastic 1/2 crate 300 x 400 mm Maximum height 240mm ( 1 x 220 box or 2 x 120mm box or 4 x 70 mm )
Interior of CūrPod:DRY showing Sensor Array
CūrPod:DRY with Mixing Valves on Sealed Opaque Lid